WASHINGTON TOWNSHIP INFORMATION DIRECTORY


As of 7/1/2016
Washington Township is a township incorporated and organized under the laws of the State of Illinois for the purpose of providing its residents with the following services:
A. General Assistance
B. Maintaining Roads
C. Appraising Property Values

Washington Township has certain functional subdivisions, which are shown on the block diagram attached hereto. The proposed amount of the 2016-2017 Fiscal Year operating budget of the Township is $305,827. The operating budget of the Road District is $796,322. The Township's sole office and maintenance facility is located at 30200 Town Center Road, Beecher IL.
The Township employs 3 part-time employees.

The Road District employs 2 full and 3 part-time employees.

The Assessor's office employs 3 part-time employees.

The identification and membership of any board, commission, committee, or council which operates in an advisory capacity relative to the operation of the Township, or which exercises control over its policies or procedures, or to which the Township is required to report and be answerable for its operations are as follows:
TOWNSHIP BOARD (elected- all terms expire 2017)
Michael Stanula – Supervisor
Joseph Burgess – Clerk
Paul Goldrick – Trustee
Mark Herlitz – Trustee
Tracy Heldt – Trustee
George Obradovich - Trustee
PLANNING COMMISSION (appointed)
Dale Murray - Chairman
Larry Herman
David Knuth
Tom Kritenbrink
Mike Waterman
WASHINGTON TOWNSHIP BLOCK DIAGRAM OF
FUNCTIONAL SUBDIVISIONS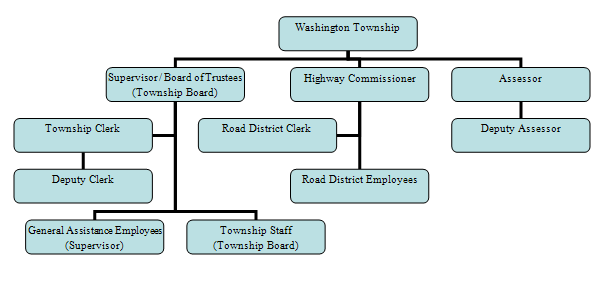 WASHINGTON TOWNSHIP RECORDS DIRECTORY
Any person requesting records of Washington Township may make such a request either in person or in writing at 30200 Town Center Road, Beecher, IL, 60401. Such request should be made to Clerk Joseph Burgess the Township's Freedom of Information Act (FOIA) Officer at such address. FOIA requests may also be submitted via e-mail. Please use the following e-mail address This email address is being protected from spambots. You need JavaScript enabled to view it.. Another method to make a FOIA request is to fax it to (708) 946-2141 specifying in particular the records requested to be disclosed and copied. All requests must be in writing and should be addressed to the FOIA Officer at the address above. If you desire that any records be certified, you must indicate that in your request and specify which records must be certified.
The fees for any such records, if the person requesting the records wishes them to be copied, are as follows:
First 50 pages, black and white, letter or legal size copies, no cost.
Additional pages, black and white, letter or legal, actual cost to $0.15.
Electronic records will be formatted subject to reimbursement for costs of recording medium.
Color copies or copies in a size other than letter or legal shall be reimbursed to actual costs.
Costs of certifying a record will be $1.00.
Records may be furnished without charge or at a reduced charge, as determined by the Township, if the person requesting the documents states the specific purpose for the request and indicates that a waiver or reduction of the fee is in the public interest. Waiver or reduction of the fee is in the public interest if the principal purpose of the request is to access and disseminate information regarding the health, safety and welfare or the legal rights of the general public and is not for the principal purpose of personal or commercial benefit.
Pursuant to Section 3.5 of FOIA, the FOIA Officers have designated the following documents or categories of records that shall be immediately disclosed to the public upon request:
Resolutions maintained in printed form
Approved Open Meeting Minutes
Budget & Appropriation Ordinance
FOIA Officer's Directory
Supervisor Mike Stanula
30200 Town Center Road
Beecher, IL 60401
Direct: (708) 946-2026 Ext 1173
Fax: (708) 946-2116
This email address is being protected from spambots. You need JavaScript enabled to view it.
Joseph Burgess
30200 Town Center Road
Beecher, IL 60401
Direct: (708) 946-2026 Ext 1176
Fax: (708) 946-2116
This email address is being protected from spambots. You need JavaScript enabled to view it.
WASHINGTON TOWNSHIP
CATALOG AND INDEX OF PUBLIC RECORDS
FINANCIAL RECORDS
Budget & Appropriation Ordinance
Audits
Bills
Receipts for Revenue
Vouchers
Cancelled Checks
Utility Bills
Tax Information
GENERAL TOWNSHIP INFORMATION
Resolutions
Policies
Personnel Codes
Maps
Zoning Plans
Equipment Contracts
Meeting Minutes
Agendas
Supply Contracts
Bonds
Equipment Leases
FOIA Records
Training Records
ROAD DISTRICT RECORDS
Resolutions
Policies
Personnel Codes
Maintenance Contracts
Employee Contracts
ASSESSOR'S OFFICE
Real Estate Assessment Records
Policies
Note that some categories or records within categories may be subject to exemption from the Illinois Freedom of Information Act and this "listing" is not intended to waive the ability of Washington Township to claim a document is exempt from disclosure under the law.