Washington Township Community Building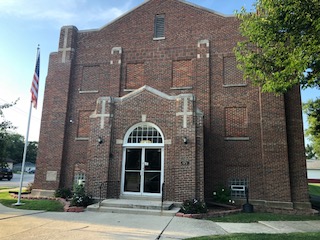 The Washington Township Community Building with its distinct architectural features was dedicated in 1929 and is still the centerpiece of downtown Beecher. The 2-story building located at 673 Penfield Street in Beecher was recently upgraded with ADA requirements and is used on a regular basis for meetings, assemblies and many other local activities
The building is governed by a Board of Managers who are elected every four years at the Consolidated Elections. The Board of Managers are solely responsible for maintaining the building and ensure the building is being used as specified by township code.
Current Board of Managers: Stacy Mazurek, Teresa Peterson and Dan Waterman.
Anyone wishing to use the building must submit an application to the Building Manager and adhere to the policies and guidelines as set forth by the Board of Managers. Cleaning fees may be imposed as a condition of usage for personal functions.
To obtain a "Renter's Application" please contact Community Building Manager, Kellie Karstensen at (708) 417-6403 or download the application by CLICKING HERE.
Clothing & Shoe Recycling
Bring your old clothes and shoes to our new textile drop box located on the north side of the Community Building. Access to the bin is available 24 hours a day / 7 days a week.
The Community Building Board of Managers meet monthly on the following dates.
All meetings are held at 6 PM on Mondays, unless noted, at the Washington Township Center and are open to the public.
Monday - Apr 3, 2023
Monday - May 1, 2023
Monday - Jun 5, 2023

Thursday

- Jul 6, 2023
Monday - Aug 7, 2023

Thursday

- Sep 7, 2023
Monday - Oct 2, 2023
Monday - Nov 6, 2023
Monday - Dec 4, 2023

Thursday

- Jan 4, 2024
Monday - Feb 5, 2024
Monday - Mar 4, 2024
Our Facility: